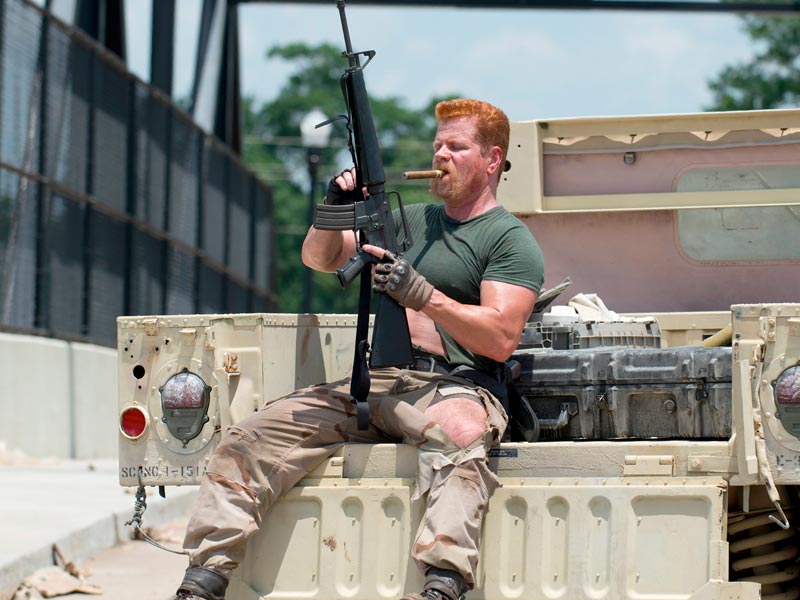 If you're a fan of Fear The Walking Dead (The Walking Dead spinoff show) then you may have noticed in the Season Four midseason finale revealed one of the videotapes that journalist Althea (Maggie Grace) labelled as "Abe/Doctor". For those who don't watch the show, Althea is a journalist that travels up and down the country in an armoured vehicle finding survivors to video, which she then stores away for future keeping.
In Season 4's mid-season finale "No One's Gone" we're shown a very quick shot of the box of tapes which are labelled, and one particularly stood out to viewers with a keen eye. "Abe/Doctor" Can only really mean one thing, can't it. It was hinting that Abraham and Eugene were spoken to by Althea and stored away a video of them. But at the time of this episode back in June, people were left baffled by its importance.
As now officially confirmed, we're set to see a trilogy of movies of The Walking Dead after Andy's (Rick Grimes) departure. Not only do these movies star Rick himself, but they confirmed that they will be expanding The Walking Dead universe in terms of the past, present and even the future. Showing characters that are still alive, as well as already confirmed dead.
"Different tone, different characters. We're also going to see old characters — review some content with old favourites. We get to revisit them and see stories of their past that we might not have shared before." – Scott Gimple
So does this mean we haven't seen the last of Abraham? And with the Whisperers shortly approaching Eugene is once more in danger which could hint at a possible death on the show (Impacting the importance of this tape even more). Hopefully, we get to see Abraham and Eugene, and how they eventually come across Rosita (Christian Serratos). That would certainly be something to watch, as the red-headed powerhouse didn't deserve being bludgeoned to death by Negan and Lucille back in Season 7.
What do you think? Let me know below.
I put all of my time and effort into this website. If any of you would like to buy me a coffee then feel free to do so. It's only £3, and it would make my day to know that I'm being appreciated by The Walking Dead community.