Over many years of The Walking Dead being on the show, we've seen Walkers using rocks to smash windows in Season One, to them now in Season Nine trapped in tees. The Walkers haven't evolved, they've decayed. Let's get right into it, in this article I'll be talking specifically about the titles of the show.
I'll talk about Seasons One to Eight before getting onto Nine. Right from the start, Season One we've been shown a sense of decay even within the opening title credits of The Walking Dead.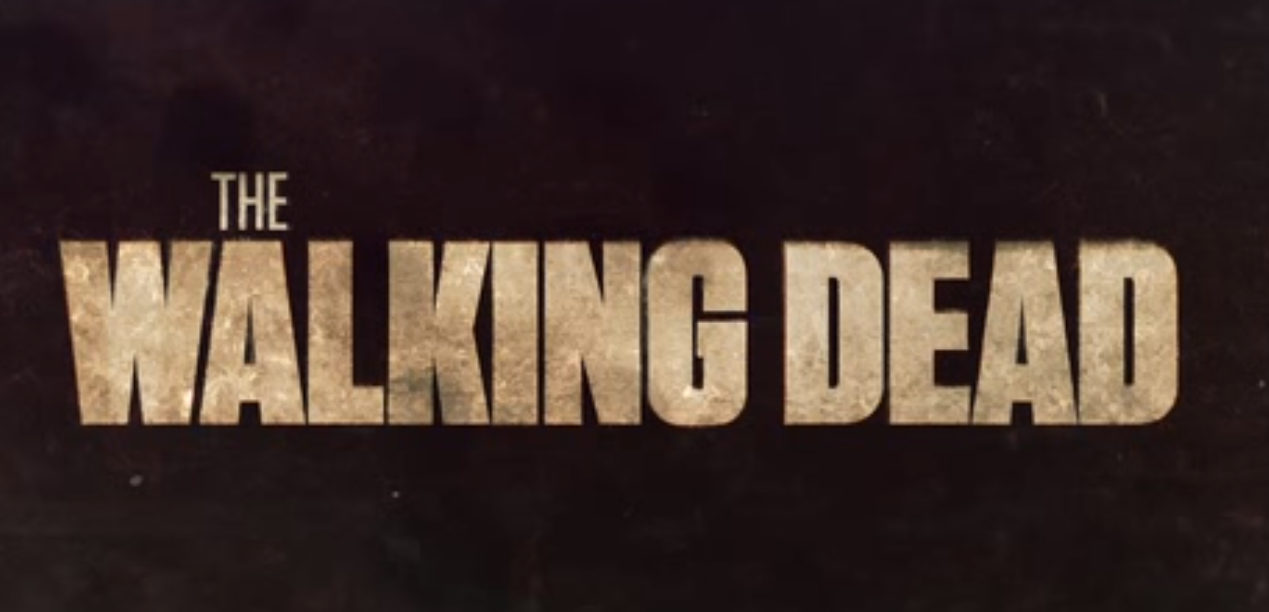 In Season One, we see that it's a very fresh looking title telling us that the outbreak has just begun. There isn't much else to say about this apart from that it's the start of something. Something bad.

Season Two, we don't see much of a difference apart from the title becoming paler. This is telling us that the walkers are ageing slightly however they're still the same walkers. The threat at large is very much the walkers, rather than people.

Season Three is where we start to see changes properly, we see slight markings, scratches as well as now in the background some sort of microscopic view of an organism. Showing us that people are losing hope, as walkers start to take over the entire world. Places to stay have been overrun, forcing people to fight to survive more than ever before.

Season Four's title has become a lot darker than previously. Telling us that the world's now a lot darker, the walkers and especially people are starting to lose themselves. People are killing each other over territory, as well as betrayals, lies and deceit.

Season Five, they're the darkest we've seen now. The world has become a very cold place, with supplies now running scarce. People killing people for the fun of it, we're even shown cannibalism in this season which just shows us how much the world is changing. Which is reflected through the titles.

Season Six's title now shows us just how much the world is decaying. We even see on the left a very dark red splattered across the W. This is indicating that walkers aren't becoming a threat anymore, its people. More than ever. Blood is spilt in the worst kinds of way possible.

Season Seven, we start to see a complete collapse of the titles. The letters are becoming misshapen as well as cracks being shown throughout them. The title is also even darker than before, almost as if they can't get much worse. The world can't get much worse, in this season we see Rick's (Andrew Lincoln) group the worst it's ever been. Broken, being murdered by a ruthless villain they're forced to do as he says.

It now can't get worse than Season Eights titles, we thought Sevens was bad. But now we're presented with this. Hinting at the possible end of everything, we see that the letters are now starting to fade away. The marks and scratches are making a real dent. This tells us that this could be the end of the torture, bloodshed, they've been going through for the past seasons.

So what about Season Nine? Well. We all know that by the end of Season Eight it was over. The war was the main story of that season, and by the end of it, we're shown the communities all coming together to take down the Saviours. So what now? What should the titles look like? Now that life is getting better, people, as well as walkers, aren't much of a threat anymore.
In the opening title for Season Nine, we see a completely fresh title, one that's rebuilt, without signs of blood or scratches to show the decay of the world. We're presented with a very stone-like looking one, that has a few cracks in it. But this is showing us the new world. The one after the war. We can see that it's been many years since the start of the outbreak, as the title also has plantation growing out of it. Showing how overgrown everything is becoming. This tells us that there has clearly been a time jump at the start of the season, but we've also just found out that there has been a six-year time jump so it seriously relates to that much more.
I put all of my time and effort into this website, running it all by myself. If any of you would like to buy me a coffee then feel free to do so. It's only £3, and it would make my day to know that I'm being appreciated by The Walking Dead community.