After leaving us all guessing the name of Daryl's dog (Belgian Malinois) after seeing the Sneek Preview this week, Norman Reedus has finally revealed the name of him.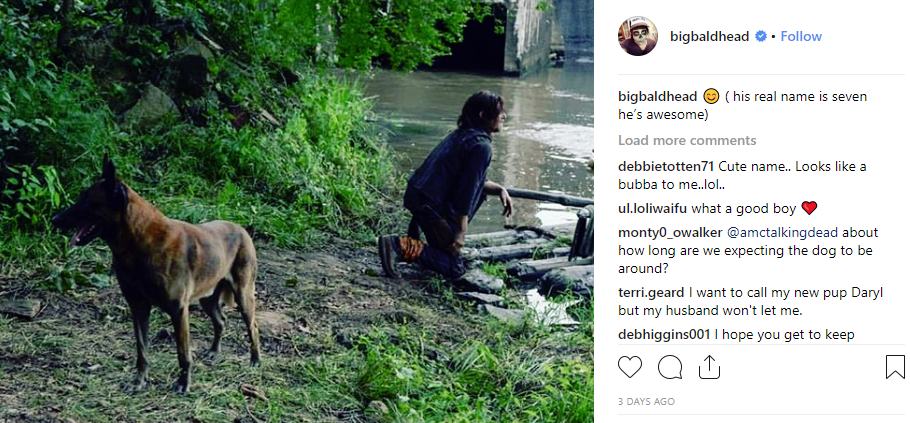 We see in this Instagram Post that he confirms the name of the dog to be Seven. However what we don't know is why he's been called Seven. This is a much-needed companion for Daryl after exiling himself from the rest of the world, still searching for Ricks body.
However, we all know that animals don't really live for that long in The Walking Dead. Countless horses, wild dogs, even pigs have had very little screen time. Daryl seems to be attached to this dog, and we all know how destructive he can be if he ever loses something he loves. Let's just hope Seven is in it for the long run.
Norman Reedus tells ComicBook that working with Seven is "So good."
"I love it. I think he's the smartest cast member we got."
"We just did a scene the other day that ended up being the opposite of what it was supposed to be because the dog just wanted to do something else, and it came out so much better. He'll probably be running the show. It's great! I love it. He loves me, too."
Norman Reedus also tells Deadline that the second half of Season 9 is "F*cking epic." 
"They're f*cking epic, you know, and they're just crushing and they're severe, all of them," Reedus told Deadline. "The show's morphing into something else but it's got the heart and the feel of the original show, there's just new life breathing through it."
The Walking Dead airs Sundays in the US at 9/8c on AMC, as well as 9pm Monday's on FOX in the UK.